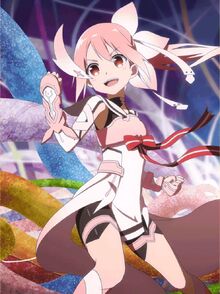 Yūna Yūki (結城 友奈 Yūki Yūna?) is the titular protagonist of the Yuki Yuna is a Hero anime series. She is a second-year middle school student and a member of the school's Hero Club.
Appearance
Yuna is a fair-skinned teenage girl of slightly below average height. She has amaranth-red eyes and shoulder-length hair of different hues: in civilian form, her hair appears amaranth-red in color; in Hero form, her hair now appears pinker in color. She also dons a flower petal-shaped hair clip, which noticeably increases in size while in Hero form.
Personality
Yuna is an energetic, kindhearted girl who jumps at the chance to help others. She is extremely loyal to her friends, family and to the Hero Club, and fights to protect them without a second thought regardless of the risks to her own safety. Yuna is good at reading people's emotions, and will often exaggerate her naivete and childishness in order to brighten the mood. Yuna is also not above telling white lies for the sake of her friends. In truth, Yuna is scared of dying, and being alone.
Gallery