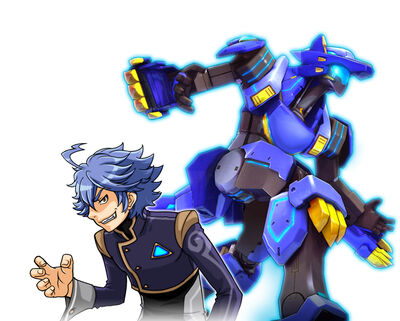 Wolf Rocky is a former anti-hero and currently as villain/redeem villain character from the Hero of Robots universe. He is the pilot of Sirius/Blazing Sirius, Wolf Rider, later Wolf Tyrant/Nightmare Wolf. He voice in Japanese is Nobuhiko Okamoto. He birthday is February 4th (Aquarius).
Description
No one knows exactly what's in his mind. There seems to be a weird smile hidden behind his pale face.
After the experience of the last war, his unpredictable character has become even more severe. He no longer views protecting the Earth as his priority, but instead follows his own whims, and those that earned his wrath will need to watch out.
Formerly the Head of Intelligence for the Earth Federation, but walked out after having enough of the corruption among the leadership. His cynical skepticism towards the world is based on his rough upbringing, and he believes that survival of the fittest is the key to human advancement.
He was one of the first robot pilots, despite his lowly origins, and always saw the powerful Dragon Clishee as his rival. His rise to the Head of Intelligence showed him that the corruption in the Federation would ultimately lead to stagnation for the whole world. Thus, when the Viper Force offered him the power to change the world, he took it without hesitation.
Information
Faction : Union Aiya (formerly), Viper Force
Mech : Sirius/Blazing Sirius, Wolf Rider, Wolf Tyrant/Nightmare Wolf
Relationship
Dragon Clishee : His friend/rival. Both of them are pretty much a childhood friend. Regardless, they sometimes have different arguement and mission. Even when he joined Viper Force, he still respect Dragon Clishee as his worthy rival. After his redeemption, the connection between them becomes good again.
Zangetsu : His worthy servant, and yet sometimes having trouble towards him. Because, Zangetsu is pervert, but otherwise he's born as successor of Yakuza Tribe.
Cuiyun : His worthy servant. She is called him as her "superior master". Her chinese bloodline as assasin is really impresive him, and recognized her as his successor servant.
Dugeon Messiah : His biology father, and the one responsible for turned him into evil side. At first he though that his father loyal, until realize that he was manipulate him since beginning.
Vilamia : His mother, and the one who order him to destroying Empire in the event of Final Battle Empire. Like his father, she just manipulate him since beginning.
Vlad : His uncle, they both can't be argue each other and always made trouble.
Sienna : His love interest, and future wife. She only listen to him, and loyal until the end.
Theseus

 : His brother in law, and at some point had a conflict and rival between those two.
Bellus : His step brother, and sometimes follow his orders yet sometimes walk on his own path due to his egoistical personality.
Family
Dugeon Messiah (biology father, deceased)
Vilamia (mother)
Vlad (uncle)
Bellrus (step brother)
Sienna (love interest)
Duos (brother-in-law)
Trivia
Wolf Rocky is the first anti-hero on Hero of Robots Universe who turned into villain. The second being Ryo Aohono, who become villain leader in Hero of Robots Season 2. Although, seems Wolf Rocky redeem himself in the end of Galaxy Epoch Season.