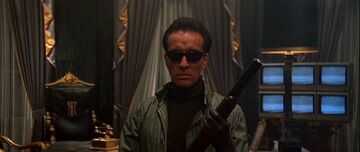 The Skullis the final antagonist in the 1983 film Scarfaceand a minor antagonist of the game.
He was portrayed by Geno Silva.
The Skull makes a minor appearance in the story. He serves as a loyal minion to Dong Zhuo. There, he and the rest of the villains were confronted by Marika Kato and her followers. During his last fight, he was slain by Kamen Rider Ratorata's Scanning Charge Attack, along with Bishou.
Allies and Enemies
Allies: Dong Zhuo, August Kuratov, Bishou, Miranda Frost, Yan Baihu (formerly), Masaru Ooyama/Akaba (formerly), Syuuya Aikawa/Aoba (formerly), Syoukichi Mihara/Kiba (formerly)
Enemies: Marika Kato, Sento Kiryu/Kamen Rider Build, Milinda Brantini, Dominic Toretto, Greg Heffley, Tsubomi Kido, Wade Owen Watts, Shouya Ishida, Hei (Darker than Black), Ryuga Banjou/Kamen Rider Cross-Z, Soichi Isurugi, Misora Isurugi, Sawa Takigawa, Eiji Hino/Kamen Rider OOO, Professor Kukui, Professor Burnet, Kouta Kazuraba/Kamen Rider Gaim, Kaito Kumon/Kamen Rider Baron, Mitsuzane Kureshima/Kamen Rider Ryugen, Takatora Kureshima/Kamen Rider Zangetsu/Zangetsu Shin, Suzuka Kamiki, Gas-House Gorillas, Kazumi Sawatari/Kamen Rider Grease, He Jin, Hyde Kido, Bastion Misawa, Horrid Henry, Mirei Mikagura, Etemon, Volcamon, Futaba Ichinose, Chitose Karasuma, Norimichi Shimada, Kenzo Tenma, Kudelia Aina Bernstein, Atra Mixta, Wataru Kurenai/Kamen Rider Kiva, Kivat-bat the 3rd, Kate Green, Gentoku Himuro/Night Rogue/Kamen Rider Rogue, Rinna Sawagami, Nariaki Utsumi, Akari Tsukimura, Leena Toros, Aila Jyrkiainen, Mitsuya Majime, Hester Shaw, Kouhei Araki, Jiro, Ramon, Masaru Ooyama/Akaba, Syuuya Aikawa/Aoba, Syoukichi Mihara/Kiba, Hiroki Nagase, Alice McCoy
Gallery
Community content is available under
CC-BY-SA
unless otherwise noted.