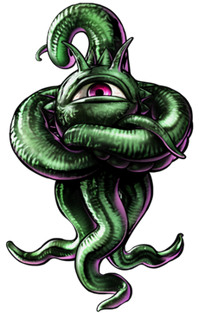 Shuma-Gorath
 is an evil deity from the 
Marvel
 universe and one of the Old Ones. He is also one of Main Enemies of
Dr. Strange
. Although he was a very obscure villain, he became popular after his appearance in the 
Marvel Super Heroes
 fighting game.
The P team/Miracle Elite Storyline
The War of Destruction
Shuma heard Galactus returns and decide to join him for the second time, First was Marvel Vs Capacom 3, And He WIll Never Backstabbed His Old Boss Ever Again.
Shuma escaped from the war with P Team and it is unknown where he's at.
The Phantom's Apprentice
Shuma-Gorath became the secondary antagonist of this story.
Trouble in London
During the time on his solitude, Elder God recruits Shuma-Gorath into the secret British underworld to help in his and other Lovecraftians' mutual plans.
Chronicles of Great New Empire
Shuma-Gorath is the father of Giygas.He was killed by his son.
Trivia
He Is crazy about Chaos, like both Discord and Beetlejuice.