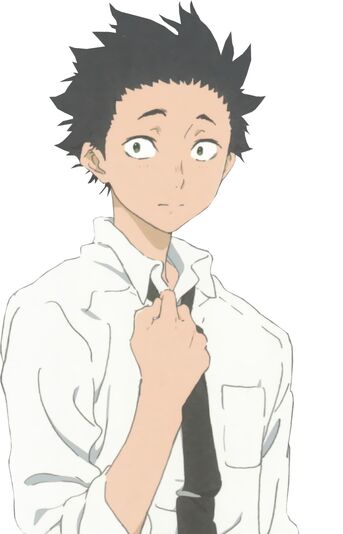 Ishida Shouya (石田 将也, Ishida Shōya) is a character introduced in Koe no Katachi. He is the main, male protagonist of the series.
Ishida has lived a 'lone wolf' life after being blamed for the sole bullying of Nishimiya Shouko during elementary school. Six years later after meeting Nishimiya again and befriending her, he starts to gather new friends together, along with old ones he had during middle school. Despite the changes in his life, Ishida still struggles to make up for what he did in the past. 
He is voiced by Miyu Irino in the Japanese animated film, his younger self voiced by Mayu Matsuoka.  
In the English version, he is voiced by Robbie Daymond, and Ryan Shanahan voiced his younger self.
Shouya made a debut as one of Marika Kato's followers to help Milinda Brantinni and her friends in a raging war against the soldiers of Gjallarhorn.
After the deaths of Kain and Thornheart, he and the heroes continued to live a life with his friends in Mars. Suddenly, he and the people were visited by the Symphogear heroines and their friends for the first time. During the meeting, he and the gang decided to discuss about the future deaths of Rustal Elion and the rest of Lord Prozen's minions as well.
After the meeting was finished, he and the heroes left their homeplanet Mars, thus leaving their families and their homes behind. While continuing to escort Futaba Ichinose and Chitose Karasuma, he and his friends were confronted by the people of the Knights of Gjallarhorn. Suddenly, he and the heroes decided to trick them by sending Flint Lockwood and Steve the Monkey to Knights of Gjallarhorn. While continuing their journey, he and the heroes were attacked and fought by Transylvanian Business led by Wataru Kurenai. After the fight was finished, he and the rest of our heroes convinced them to realize the errors; so that, he and the heroes must work together to reconcile peace between humans and countless species.
After the defeat of the Bruters and the death of Yan Baihu, he and his friends continued their journey to earth.