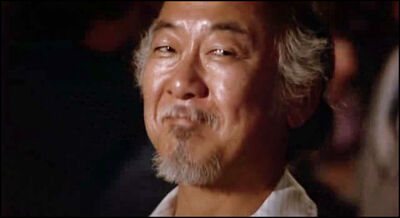 Nariyoshi Miyagi is the deuteragonist of The Karate Kid and the teacher and mentor of both Daniel LaRusso and Julie Pierce.
Personality
Mr. Miyagi is a genuinely caring, warm-hearted, and friendly person. He possesses deep and abiding wisdom but also a sly, sarcastic sense of humor. He is a great mentor to both Daniel and Julie, and becomes a father figure to both of them. Despite being a highly skilled fighter he is never aggressive and will only fight in order to defend himself, showing that he does not allow his power to corrupt his mind. Even after his death in 2011 his memory lives with Daniel who uses his teachings to mentor Robby and strives to be as good of a teacher as him.
Miyagi was not without his regrets, however. The loss of his wife and child while he was in the European theater of WWII haunted him for decades. He never remarried, living a solitary life afterwards. When he met Daniel, it apparently filled a void in his life left by the loss of his child.
Gallery