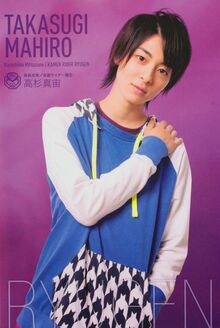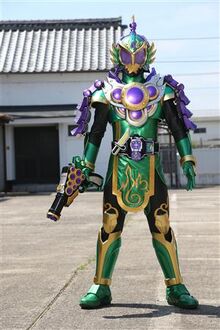 Mitsuzane Kureshima (呉島 光実 Kureshima Mitsuzane), referred to as "Mitchy" (ミッチ Micchi) by his friends, is a member of the Kureshima Family and is the younger brother of Takatora Kureshima. Mitsuzane, initially a member of Team Gaim and a close friend of Kouta Kazuraba becomes Kamen Rider Ryugen (仮面ライダー龍玄 [リュウゲン] Kamen Raidā Ryūgen, lit. "Dragon Mystery") to protect his team and his friends during the Inves Games.
Hidden from his friends is his Kureshima background where he was forced to live in an environment with a heavy burden from his brother, who wants him to exceed in life, likewise the same from his father, Amagi Kureshima. Mitsuzane eventually joins his brother's goal of trying to save humanity from the Helheim Invasion through Project Ark, but when his brother allies himself with Kouta, he becomes a victim of a coup d'état causing Mitsuzane to blame Kouta for his brother's "death" and causing his crush, Mai Takatsukasa to lash out at him. Through Kouta and Mai's "death", Mitsuzane is unable to see his other friends eye to eye and views himself as someone who is incapable of their friendship.
Mitsuzane Kureshima made a first appearance as one of Marika Kato's followers in Mars. He went on a practice training with Milinda Brantini and her friends as well.
After the deaths of Kain and Thornheart, he and the heroes continued to live a life with his friends in Mars. Suddenly, he and the people were visited by the Symphogear heroines and their friends for the first time. During the meeting, he and the gang decided to discuss about the future deaths of Rustal Elion and the rest of Lord Prozen's minions as well.
After the meeting was finished, Kouta and the heroes left their homeplanet Mars, thus leaving their families and their homes behind. While continuing to escort Futaba Ichinose and Chitose Karasuma, he and his friends were confronted by the people of the Knights of Gjallarhorn.