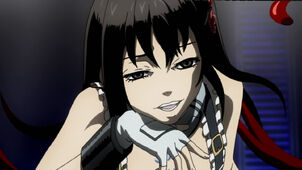 Minatsuki Takami
, the 
Hummingbird
 is one of the main supporting characters from the manga and anime Deadman Wonderland. She is the younger sister of Yō Takami, and a Deadman previously secluded in G Ward. She is voiced by Leah Clark in the English version and by Iori Nomizu in the Japanese version.
The Miracle Elite Adventures
Joining the New Acolytes
Mineene is a Sister of the Children of Pandora. She was recruited by the remain members of Acolytes.
The Return of Pandora
TBA
A Christmas Bizarro in July
TBA