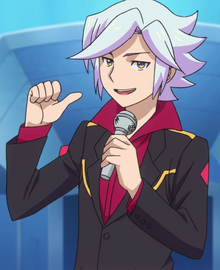 Knight Unryuuji (雲龍寺 ナイト,Unryūji Naito?) is the CEO of L-Corp. When disguised, he uses the pseudonym Cloud (クラウド,Kuraudo?).
Appearance
Knight is a teenage boy with fair skin, white hair, and central hetorochromic eyes that fade from yellow to purple. His attire consists of a maroon collar shirt under a black blazer with gold stripes going across the shoulders and chest, a pair of black dress-pants with gold stripes going down the sides, and brown dress-shoes that are black at the bottom.
Description
Knight's catchphrase is "Thank you, future" (サンキュー未来, Sankyū Mirai?). He also tends to announce his name by saying his surname, and pointing for his audience, who respond by shouting his name.
Kuroto Dan appeared as one of the main members of the Knights of Gjallarhorn. He and his friends decided to acknowledge each just before having meeting with the heroes.
After the deaths of Thornheart and Kain, he, Dr. Dan, and Wolf met the people of Mars for the first time. While having a friendly meeting, Dr. Kuroto Dan easily prevented Henry from hurting or bullying Wolf Rocky. He and the people got convinced by Granny not to do it again. He, Dr. Dan, and Wolf decided to have a friendly discussion with people of Mars about bringing peace to entire Multi-Universe. So that, the truth can set Dr. Dan and Knight free. After the meeting was done, Dr Kuroto Dan and Knight Unryuji went back to the Gjallarhorn Spaceship to resume their duty. Suddenly, Kuroto Dan commands Knight to pilot the graze mobile suit before having a first fight Tekkadan. After the short fight, Dr. Dan and his fellow soldiers met and discovered Flint Lockwood and Steve the Monkey.
After the defection of Hiroki Nagase and his friends to Tekkadan and Transylvanian Business and the defeat of the The Bruters, Dr. Kuroto Dan and Knight Unryuji decided to have a friendly time with Symphogear heroines and their friends at the Dinning Hall.
Allies and enemies
Current Allies: Hibiki Tachibana, Tsubasa Kazanari, Chris Yukine, Maria Cadenzavna Eve, Shirabe Tsukuyomi, Kirika Akatsuki, Miku Kohinata, Souji Tendou/Kamen Rider Kabuto, Arata Kagami/Kamen Rider Gatack, Carly Carmine, Futaba Ichinose (Sore ga Seiyū!), Chitose Karasuma (Girlish Number), Leo Conrad, Sally Land, Yuinshiel Asteria, Rena Asteria, Leo Conrad, Sally Land, Seraphimon, Cherubimon (Good), Ophanimon, Guardian Eatos, Kuroto Dan/Kamen Rider Genm, Knight Unryuji, Rona Tsunomori, Rei Kiriyama, Marika Kato, Milinda Brantini, Sento Kiryu/Kamen Rider Build, Milinda Brantini, Dominic Toretto, Greg Heffley, Tsubomi Kido, Wade Owen Watts, Shouya Ishida, Hei (Darker than Black), Ryuga Banjou/Kamen Rider Cross-Z, Soichi Isurugi, Misora Isurugi, Sawa Takigawa, Eiji Hino/Kamen Rider OOO, Professor Kukui, Professor Burnet, Kouta Kazuraba/Kamen Rider Gaim, Kaito Kumon/Kamen Rider Baron, Mitsuzane Kureshima/Kamen Rider Ryugen, Takatora Kureshima/Kamen Rider Zangetsu/Zangetsu Shin, Suzuka Kamiki, Gas-House Gorillas, Kazumi Sawatari/Kamen Rider Grease, He Jin, Hyde Kido, Bastion Misawa, Horrid Henry, Mirei Mikagura, Etemon, Volcamon, Yūna Yūki, Mimori Tōgō, Fu Inubouzaki, Itsuki Inubouzaki, Karin Miyoshi, Sonoko Nogi, Hiroki Nagase, Masaru Ooyama/Akaba, Syuuya Aikawa/Aoba, Syoukichi Mihara/Kiba, Futaba Ichinose, Chitose Karasuma, Kenzo Tenma, Kudelia Aina Bernstein, Atra Mixta, Wataru Kurenai/Kamen Rider Kiva, Kivat-bat the 3rd, Kate Green, Gentoku Himuro/Night Rogue/Kamen Rider Rogue, Rinna Sawagami, Nariaki Utsumi, Akari Tsukimura, Leena Toros, Aila Jyrkiainen, Mitsuya Majime, Hester Shaw, Kouhei Araki, Jiro, Ramon, Riki, Kuroto Dan/Kamen Rider Genm
Former Allies: Gunther Prozen, Thaddeus Valentine, Hajime Busuzima, Thornheart (deceased; killed by Milinda Brantini), Dr. Ellie Staple, Kain (RESTOL Special Rescue Squad) (deceased), Flinty McCallahan (deceased), Greta Hideg, Matori, Dr. Zager, Gozu (Pokemon), Mikie Okamine, Masakuni Mido, Jail Scaglietti, Gabby Jay, Alva, Rustal Elion, Carta Issue, Iok Kujan, Gallus Bauduin, Elek Falk, Iznario Fareed, Nemo Baklazan, Julieta Juris, Wolf Rocky, Knight Unryuji (formerly), Shia Kijima, Wilfrid Kijima, Saga Adou, Swartz, Uhr, Ora, Tid
Current Enemies: Gunther Prozen, Thaddeus Valentine, Hajime Busuzima, Thornheart (deceased; killed by Milinda Brantini), Dr. Ellie Staple, Kain (RESTOL Special Rescue Squad) (deceased), Flinty McCallahan (deceased), Greta Hideg, Matori, Dr. Zager, Gozu (Pokemon), Mikie Okamine, Masakuni Mido, Jail Scaglietti, Gabby Jay, Alva, Rustal Elion, Carta Issue, Iok Kujan, Gallus Bauduin, Elek Falk, Iznario Fareed, Nemo Baklazan, Julieta Juris, Wolf Rocky, Knight Unryuji (formerly), Shia Kijima, Wilfrid Kijima, Saga Adou, Swartz, Uhr, Ora, Tid