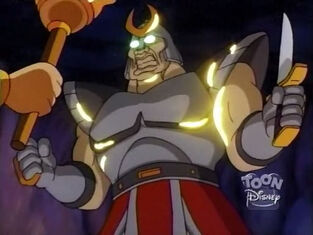 Kileem is an ancient ancestor of the Sultan of Agrabah. Unlike his descendant, Kileem was dictator and feared warrior. He wore a suit of an invincible armor. Many tried to defeat him but failed. After his death, his spirit possessed the armor. Many years later, he possessed the Sultan after he was forced the armor to defeat a minotaur. He was destroyed by Aladdin.
LOTM: A New Beginning
Kileem' spirit is brough by the chaos god Set who offers a new body should he join him and Kileem accepted.