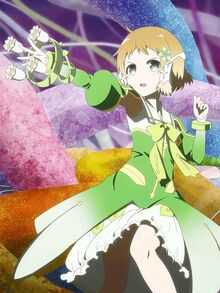 Inubouzaki Itsuki (犬吠埼 樹 Inubōzaki Itsuki?) is one of the main characters of the Yuki Yuna is a Hero anime series. She is the younger sister of Inubouzaki Fu and the current president of the Hero Club.
Personality
Itsuki, unlike her older sister, is very shy and timid. However, she is very kindhearted and enjoys helping people. She also becomes less shy around people she knows, and can even be snarky at times whenever her big sister says something that's not understandable. Even so, she looks up to Fu and respects her dearly. She's very aware of her smallness of both personality and body, and the Memories of the Forest game reveals that she is self-conscious of her petite frame.
Itsuki expresses a secret desire to be equal to her sister rather than relying on her all the time and takes up singing in order to do so. However, losing her voice doesn't dishearten her and only serves to make her try even harder for Fu's sake. Even though Fu hid the Hero Club's true purpose from her, Itsuki followed her without protest and despite losing her voice only expresses gratitude toward her sister and the rest of the Hero Club for everything they've done for her.
Gallery