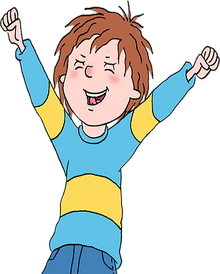 Horrid Henry is the titular main protagonist (as well as anti-hero) of the Horrid Henry books, tv series and film. He has a very horrid behaviour. He isn't trying to be Horrid, it's just something that comes naturally to him. He hates Moody Margaret, Sour Susan, Perfect Peter, Stuck-Up Steve, Bossy Bill, Miss Battle-Axe, Mr. Nerdon, Rabid Rebecca, bedtime, getting out of bed, vegetables, school, and injections. His friends include Rude Ralph, Aerobic Al, Beefy Bert, and Brainy Brian.
Horrid Henry enlisted with CGS to support his family.
When Sento Kiryu along with Henry, Milinda and the other kids founded the Tekkadan, he promised to help Sento build Tekkadan into a big mercenary company.
After being informed about Rude Ralph's death, he had a fallout with Sento (who is unaware of Henry's friend's death at the time) due to his notion to stay on Earth and continue fighting, while Henry was against this because it would put every member of the Tekkadan at risk, and he didn't want to consider the possibility of losing anyone close to him again.
Chronciles of Great New Empire
Henry's family disappeared during a raid by Hondao warriors. Agent Beckett agrees to become his guardian.
Gallery