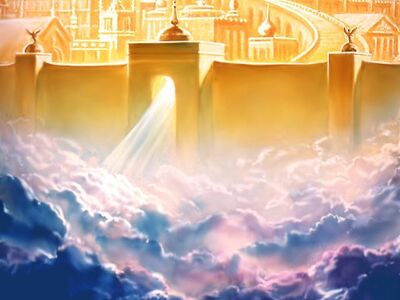 Heaven is a common religious cosmological or metaphysical term for the physical or transcendent place from which heavenly beings (such as God, angels, heavenly saints or ancestors) originate, are enthroned or inhabit. It is commonly believed that heavenly beings can descend to earth or take on earthly flesh and that earthly beings can ascend to Heaven in the afterlife or in exceptional cases enter Heaven alive. Heaven is often described as a "higher place", the holiest place, a Paradise, in contrast to Hell, and universally or conditionally accessible by earthly beings according to various standards of divinity, goodness, piety, faith, or other virtues or right beliefs or simply the Will of God. Some believe in the possibility of a Heaven on Earth in a World to Come.
As of LOTM: Next Gen Island Tour Act 3's ending, all the angels have been kicked out of heaven by Jesse's spell in part of his plan to control the angels and demons.
In the
Sleepy Hollow, the Missing Episodes
, particularly its third episode, Heaven was shown at a diner, the same place where Abbie ended up with Joe and August. By the time Lara came into the past, her spirit wound up there along with the Corbins, her mom, her ancestor, George Washington, Chief Turgado, and Gavin's ancestor Leon. There, seven crystals glow and Team Witness eventually receive the seven, sacred virtues. Later on, Katrina and Benedict wound up there via Jenny's cross as they were being redeemed from Hell's Treachery ring. Henry Parrish also wound up there soon after when he also received the holy might from Jenny's cross, breaking his War avatar and his never-ending vengeance. As the group faced Lucifer, all their fallen friends prayed for their victory and portions of the Almighty resided in them as they sealed Satan back into Hell as He was weakened by their prowess. Lastly, their allies said farewell after they arrived at the cistern and then restored balance to the world when they released their Virtues.
In the crossover Dissidia: Shadowgate, Heaven was portrayed temporarily, when Firion lost against the Behemoth along with his fellow teammates. He was in an endless flower field filled with miles and miles of wild roses in various colors, and later he saw Cosmos. Although she was a fallen manikin (not a goddess!) she wound up there too. She actually gave Firion a choice as to whether he could live and save the world from eternal disaster, or spend eternity there along with his deceased family. After several moments of thinking, he eventually decided to return and fight the Behemoth, as well as finish his mission so that he and his friends can return home. Because of his diligence, Cosmos gave him a second chance of life, and Firion was successful.
In the Сhronicles of the Great New Empire, Giygas want to devour the Seal of the Light of Paradise to get out of his prison and become invincible.
Fun Fact: There is more than one Heaven in the Multi-Universe.
Owners
Eru Ilúvatar
Zeus
Angel (Tekken)
Mastemon
Grambi (Super Paper Mario and husband of The Queen of The Underwhere)
Jesus Christ
Raiden (Mortal Kombat) (Formerly before he went too far)
The Master (Actraiser)
Angel (Actraiser)
Residents
This is for deceased heroes and redeemed villains.
FrostAngel Freeze (Killed by Profion)
Shadow (Killed by Profion)
Katrina Crane (soul lifted by Holy Cross)
August Corbin (beheaded by Abraham van Bunt)
Benedict Arnold (Sleepy Hollow) (soul lifted by Holy Cross)
Grace Dixon (incinerated by Henry's cries)
Gen. George Washington
Lori Mills (lifted after saying goodbye to the Mills)
Jeremy Crane (soul lifted by Holy Cross)
Joe Corbin (shot by Jenny Mills after an everlasting Wendigo curse)
Abbie Mills (sealed her soul in Pandora's Box)
Leon Lucas (killed by Hessian)
Chief Turgado (head of the Onondaga tribe; brain aneurysm)
Kaldea Orchid (slewed by Dauragon C. Mikado)
Dominique Cross (human form; died from terminal illness while 15)
Jeb (natural causes)
Victoria Terpsichore (shot by Red Dragon agents)
Zekrom (sacrificed its life for powering up Vic's truck during collapse of Olympus Mons)
Reshiram (sacrificed its life for melting the peak of Olympus Mons)
Annie (killed by Red Dragons)
Shin and Lin (killed by Red Dragons)
Cosmos (slewed by Chaos)
Kureha Tsubaki (killed by Elsin)
Kenzo Tenma (killed by Mikie Okamine)
Kudelia Aina Bernstein (killed by Mikie Okamine)
Atra Mixta (killed by Mikie Okamine)
Soichi Isurugi (killed by Wile E. Coyote)
Misora Isurugi (killed by Wile E. Coyote)
Captain Falcon (sacrificed himself as he Falcon Punch's Black Shadow into the Reactor Core)
Kanade Amou
Serena Cadenzavna Eve
Carl Fredricksen (killed by Milinda Brantini)
Mufasa (killed by his own brother Scar)
Strider Hiryu (killed by Lord English in Chronicles of Great New Empire)
Minato Arisato/Makoto Yuki (Passed away in Persona 3 after saving the world from the Nyx Avatar)
Trisha Elric (Died To a Plague at The Beginning of Fullmetal Alchemist)
Nina Tucker and Alexander (You know what happened to them before Scar killed her and him)
Pietro Maximoff/Quicksilver (Died in Age of Ultron)
Stoick the Vast (No HOTYD 2 spoilers)
Ben Parker
May Parker (No spoilers from Spider-Man PS4)
Maes Hughes
Thomas and Martha Wayne
Howard and Maria Stark
Sophia Ikaruga Misurugi
Jurai Asuka Misurugi
Hamato Yoshi
Pyrrha Nikos (Spoiler Alert: Killed by Cinder Fall in the Battle of Beacon)
Van Hohenheim (Philosopher Stone Removed and died peacefully at Trisha's grave)
Tony Stark/Iron Man (No spoilers for Endgame)
Black Widow (No spoilers for Endgame)
Master Xehanort (No spoilers for Kingdom Hearts III)
Varian Wrynn
Richard Parker and Mary Parker
Clover Ebi (No RWBY Volume 7 spoilers)
Durotan
Princess Celestia (Died in Fire Rebellion Storyline and no spoilers for those who haven't read it)
Minato Namikaze
Wakaba Isshiki
Lelouch vi Britannia (He wanted to unite a nation for his younger sister)
Euphemia li Britannia
Shirley Fennete
Lisa (Castlevania)
Sonya Blade (Spoilers for MK11)
Sayaka Maizono (Blame Monokuma for her madness)
Leon Kuwata
Kiyotaka Ishimaru
Mondo Owada
Chiaki Namnami (The Real One)
Yuta Asahina
Shinjiro Aragaki
Logan/The Wolverine (Spoilers for Logan aka the most depressing X-Men movie)
Asajj Ventress (Spoiler alert for Dark Disciple)
Akihiko Kayaba (Well he helped Kirito defeat Sugou so yeah)
Toby Tredwell
Jotaro Kujo (Spoilers for Part 6)
Jolyne Cujoh (Spoilers for Part 6)
James and Lily Potter
Cedric Diggory
Remus Lupin
Nymphadora Tonks
Fred Weasley
Konno Yuuki (Died to AIDS)
Prof. Horatio Hart (demised along with his lab by Grimlord's forces)
Tao Chong (natural causes)
Altair Ibn-La'Ahad
Ezio Auditore da Firenze
Élise de la Serre
Rachel (Blade Runner)
T'Chaka
Killmonger (Well he was right while we don't agree with his actions he kind of does have a point)
Dr. John Hammond (R.I.P Richard Attenboroug)
Nana Shimura
Professor Charles Xavier (Spoilers For Logan)
Johnathan Kent (The Adoptive father of Superman not the son)
King Alfor
Princess Allura (Spoilers for Voltron Legendary Defender)
Oogway
Sultan (killed by Hondao)
Ozpin (Spoilers Died in the Fall of Beacon but his Soul is Merged with Oscar Pine)
Georgius
Master Mikado (slewed by Dauragon)
Lord Blumiere/Count Bleck (spoilers for Super Paper Mario: He wasnt evil just misunderstood and Dimentio was the real Villian of Super Paper Mario)
Lady Timpani/Tippi (Spoilers for Super Paper Mario again)
Sienna Khan (Spoilers for RWBY Volume 5)
Virginia Aran (Killed by Ridley)
Rodney Aran (Killed by Ridley)
Bambi's Mother
Maude Flannders
Li Ren
An Ren
Julia (Cowboy Bebop) (Cowboy Bebop and Spoilers by The Way)
Mr. Gold/Rumplestiltskin (Spoilers for Once Upon a time)
King Fergus
King Arthur (Killed by his own Nephew or son Modred)
Marie Belmont (Lords of Shadow Castlevania in case you are curious)
Merlin (Once Upon a time Version)
Robin Hood (Once Upon a Time Version)
Maid Marian (Once Upon a Time version)
Hercules (Once Upon a Time Version)
Megara (Once Upon a Time Version)
Rapunzel Tremaine
Konoe A. Mercury
Former residents
Joesph Joestar (Thanks Dio's Blood resurrecting Him)
Optimus Prime (He died so many Times that even the owners are getting tired of him constantly dying to be brought back to life)
Alex J Murphy (Almost before he became Robocop)
Luvbi (She didn't just Die she ceased to Exist to become a pure Heart)
Ozma (RWBY since his Soul is in Oscar Pine)
Clark Kent/Superman
Princess Kitana
Sonic the Hedgehog (That Got erased since Solaris was Blown out but Sonic 06 is canon kind of...)
Community content is available under
CC-BY-SA
unless otherwise noted.