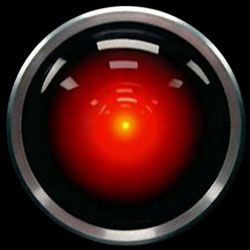 HAL 9000 (or just plain Hal) was the main computer of the Discovery 1 spaceship until he was disconnected by Dr. David Bowman (not to be confused with David Bowie, of course).
Since this, he's been recovered and integrated into the Death Star systems.
The Miracle Elite Storyline
A Christmas Bizarro in July
Elder God debuts as one of the main villains alongside Pandora, Dormammu and Phantom Blot.
The Wedding Downfall
TBA
Trouble in London
HAL 9000 returned as secondary antagonist once again. Hal 9000 has finally revived by his old friend Morpheus during the capture of the League of Extraordinary Swordsmen. Phoenix Inc. caught all the league of extraordinary swordsmen, but not four of them. Oswald and others gave them a big surprise. Morpheus summoned Hal 9000 and completely captured them all. Back in the factory, Phoenix Inc. forced the league of extraordinary to explain where Terra and her gang are. After that, Great Intelligence sent the two small pack to fetch King Kong and few member of the Miracle Elite. Now, they're off on the mission.
Gallery