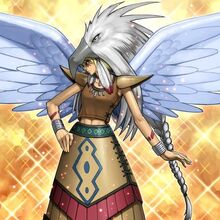 Guardian Eatos is a female character and a heroine from Yu-Gi-Oh!. Her French and Italian names refer to her with the masculine forms of the words for "Guardian", even though there are feminine, game-compatible forms.
The Multi-Universal Christmas Day of Legendary Heroes
Guardian Eatos made a first appearance during the Christmas Day, along with Celestial Digimon. Eatos takes a responsibility to give new gifts and powers to the rest of our heroes. During vacation time, Eatos was revealed to be the friend of Ruko Kominato. When the vacation time is done, she and the Celestial Digimon bid a goodbye to our heroes.
Eatos made a cameo appearance to rescue Leo Conrad and Sally Land from Gunther Prozen's minions.
Allies and Enemies
Allies: Ruko Kominato, Bugs Bunny, Souji Tendou/Kamen Rider Kabuto, Hibiki Tachibana, Tsubasa Kazanari, Chris Yukine, Maria Cadenzavna Eve, Shirabe Tsukuyomi, Kirika Akatsuki, Miku Kohinata, Arata Kagami/Kamen Rider Gatack, Seraphimon, Cherubimon (Good), Ophanimon, Leo Conrad, Sally Land, Heero Yuy, Kira Yamato, Setsuna F. Seiei, Ruuji Familon, Arashi (Zoids)
Enemies: Gunther Prozen, Thaddeus Valentine, Hajime Busuzima, Thornheart (deceased; killed by Milinda Brantini), Dr. Ellie Staple, Kain (RESTOL Special Rescue Squad) (deceased), Flinty McCallahan (deceased), Greta Hideg, Matori, Dr. Zager, Gozu (Pokemon), Mikie Okamine, Masakuni Mido, Jail Scaglietti, Gabby Jay, Alva, Kuroto Dan/Kamen Rider Genm (formerly), Rustal Elion, Carta Issue, Iok Kujan, Gallus Bauduin, Elek Falk, Iznario Fareed, Nemo Baklazan, Julieta Juris, Wolf Rocky, Knight Unryuji (formerly), Shia Kijima, Wilfrid Kijima, Saga Adou, Swartz, Uhr, Ora, Tid
Trivia
Of the Equip Spell "Guardian" monsters, this card has the longest gap between its anime debut and real-world release. It is also the only one whose corresponding Equip Spell Card was not released at the same time it was and thus one of two such "Guardian"s that does not need that Equip Spell face-up to be Summoned.
Indeed, this monster and "Guardian Dreadscythe" (the only other "Guardian" to not have this Summoning condition) are the only two such "Guardian" monsters to not have their correlating Equip Spell weapon visible in their artwork.
This card resembles both an Angel and a Native American warrior.
Gallery