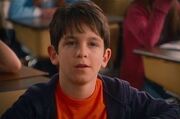 Gregory "Greg" Heffley is a fictional character and the main protagonist of the realistic fiction novel series Diary of a Wimpy Kid created by American cartoonist Jeff Kinney. He serves as the antihero and unreliable narrator of the series.
Greg Heffley made a first appearance as one of Marika Kato's followers. He went on a practice training with Milinda Brantini and her friends as well.
After the deaths of Kain and Thornheart, he and the heroes continued to live a life with his friends in Mars. Suddenly, he and the people were visited by the Symphogear heroines and their friends for the first time. During the meeting, he and the gang decided to discuss about the future deaths of Rustal Elion and the rest of Lord Prozen's minions as well.
After the meeting was finished, he and the heroes left their homeplanet Mars, thus leaving their families and their homes behind. While continuing to escort Futaba Ichinose and Chitose Karasuma, she and her friends were confronted by the people of the Knights of Gjallarhorn.