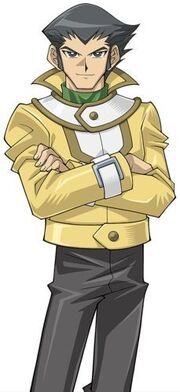 "Dueling is nothing more than a numbers game. And the numbers never lie."
— Bastion Misawa
Bastion Misawa, known in Japan as Daichi Misawa, is a highly analytic Duelist who resides in the Ra Yellow dorm at Duel Academy. Bastion is a mathematical genius who covers his cards and the walls of his room with endless numeric formulas, believing that everything in life can be calculated arithmetically. The neglect of his character is a running gag throughout the series in the anime as well as in the manga version of GX.
Originally a friend and sometimes rival of Jaden Yuki, Bastion's role in the anime slightly decreases as each arc passes, although his role in the manga does not.
Allies and Enemies