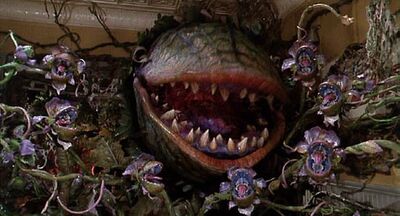 Audrey II
, or 
Twoey
 for short, is a talking, singing, man-eating alien flytrap and the iconic main antagonist from the 1986 science-fiction/horror/comedy musical film, 
Little Shop of Horrors
.
He is voiced by singer Levi Stubbs, who also voiced Mother Brain in Captain N: the Game Master.
The Miracle Elite Storyline
Trouble in London
Audrey II bud is saved from a dangerous attack. Now, Dorian has planted Audrey II and used him as the executioner to prey on his new victims. Audrey II shall have same actions as Felicia the Cat (Professor Ratigan's pet cat). Sheriff Vaisey ensures that his henchmen must feed him by bring every prisoner and/or trespassers to get them eaten by Audrey II if anyone crossed their path.
Videos