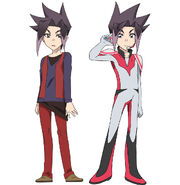 Akita Oga is one of the main heroes of Shinkalion.
Appearance
When driving the Shinkalion E6 Komachi, Akita wears a full red bodysuit with white sections and black arrow, and a set of headphones with glowing red lines.
Personality
Akita Oga is a mysterious, intelligent boy with the cold and cool personality. He sometimes to have fun with his friends like Hayato Hayasugi. Unlike his frineds, He is extremely calm and serious; and, he does not know how to smile or laugh.
Gallery